FAQ
Click on the expandable menus below to find out answers to frequently asked questions.
What happens when you buy a book?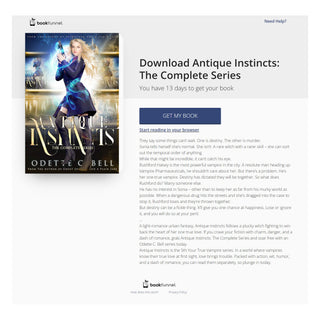 You will receive a purchase confirmation email from www.odettecbell.com and an email from BookFunnel. The email from BookFunnel will have links to your purchased e-book/e-books. In the larger example image, you can see the example download page for one of my books. The "get my book" button brings up the list of devices you can read on (the image titled "What do you like to read on?"). Select your device, and you will be taken to detailed instructions on how to download and load your book. You can also choose to save the book to your BookFunnel Library.
Orders
Below are answers to some common questions about orders
Didn't find an answer to your question?
Don't hesitate to contact us